Porcelain 10" Baking Dish
An oven-to-table convenience and enduring style
Pull together some easy weeknight Picante Chicken Enchiladas or make your next baked mac and cheese a household hit with the 10" Ceramic Baking Dish. A stylish profile gives this baker just the right accent of chic, table-ready design, while the large cooking area offers plenty of room for roasted pear and cranberry, Brussels sprouts, or a family-sized dish of potatoes gratin. Cooking and serving in style had never been so easy!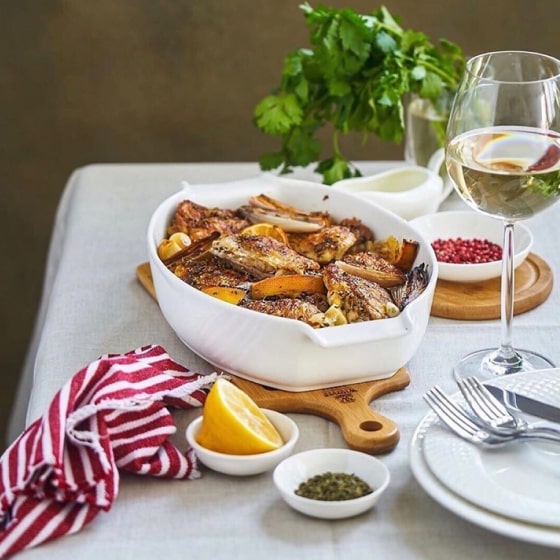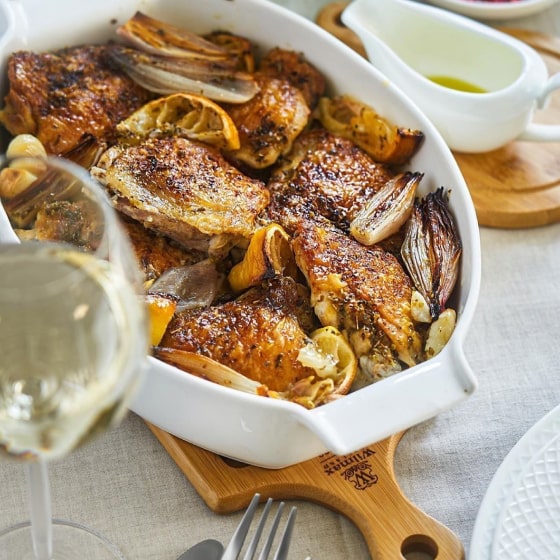 Porcelain Baking Dish: features & detail
An essential bakeware with timeless appeal
Perfect for both cooking and serving
This baking dish has thick sides and bottom allowing for excellent heat retention. Prepared dishes can be served straight from the oven or microwave to your table and the neutral design will not harm the harmony of the setting.
Microwave, oven and dishwasher safe
The versatile dish is oven safe to 572°F, and also freezer and microwave safe, so you can store batches or leftovers and reheat them in the same dish. As it is also dishwasher safe, the porcelain oven dish is easy to clean ready for next time.
Unique elegant design
You simply can't go wrong with an understated staple like this oven-safe lasagne dish in crisp, white porcelain. A welcome addition to any household, it also fits perfectly with a cozy café decor and will be suitable for a fine restaurant.
Premium quality porcelain
The extremely hard glaze does not scratch and does not craze. Durable for everyday use. The highly resistant glaze is ideal in the kitchen for making delicious meals and desserts.
Enjoy your favorite delicacy in style
This big 10" porcelain baker provides plenty of room for family-sized meals and special event recipes whether it's lasagna, casseroles, desserts, or roasted meats and vegetables.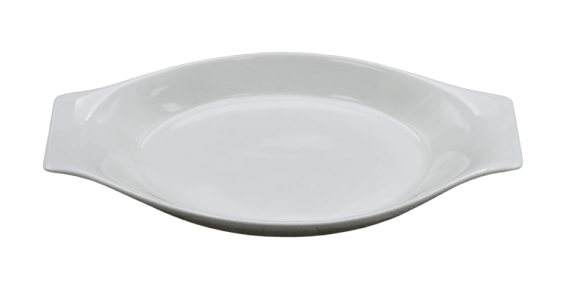 About WILMAX USA
Wilmax is an established manufacturer of tabletop small wares including Fine and durable Porcelain, Glassware, Thermo, Bamboo serve ware and High Polish Stainless Steel Flatware. With over 12 years of experience in Europe, we have finally made the move into North America. With Headquarters and a warehouse conveniently located outside of Philadelphia.
Wilmax Manufactures 100% of its product using our own or shared facilities in Asia in order to control quality and design 12 years producing and distributing tabletop goods in Europe, Asia, and Latin America
1,800 + Active and unique SKUs (growing by over 300 per quarter)
Currently, producing all products in Asia under our total control (we do not outsource)
Multi-Million US warehouse located outside of Philadelphia
We are very familiar with the hospitality market and our international clients have nothing but great things to say about our product.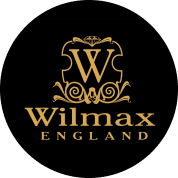 Designed In
Bensalem, Pennsylvania